April 4th, 2011 at 8:54 pm (Food)
I was at the co-op today and happened to be walking past the meat case as it was being stocked. I'd had chicken thighs or pork shoulder in mind for dinner, braised with tomatillos (recipe another day), but I spied some packages of oxtail and got really excited. I had never cooked it before, but I've got a pretty firm grounding in technique, especially when it comes to braising the most collagen-laden parts of an animal. Into the cart they went.
After a couple of excited replies on Twitter, I decided to photograph the steps as I went so I could blog about it. Why not, right? More attention can be a good thing.
This package of oxtail chunks was about $8 at the co-op. It probably weighed about 2# or so, though I didn't note the weight.
Place a medium-sized Dutch oven over a medium-low flame. Heat about a tablespoon of lard (home-rendered is the best, of course!). Butter will burn, so use it half-and-half with oil or lard if you want that flavor.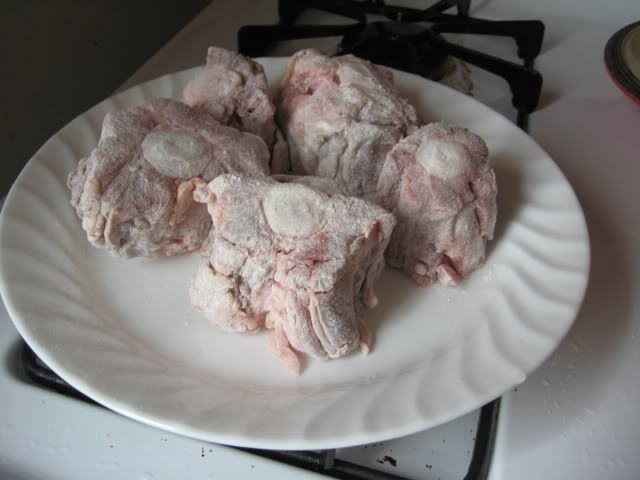 Lightly dredge the oxtail pieces in about 1/3 cup of flour that has been seasoned with salt and pepper. Reserve the extra flour. Brown the meat on all sides.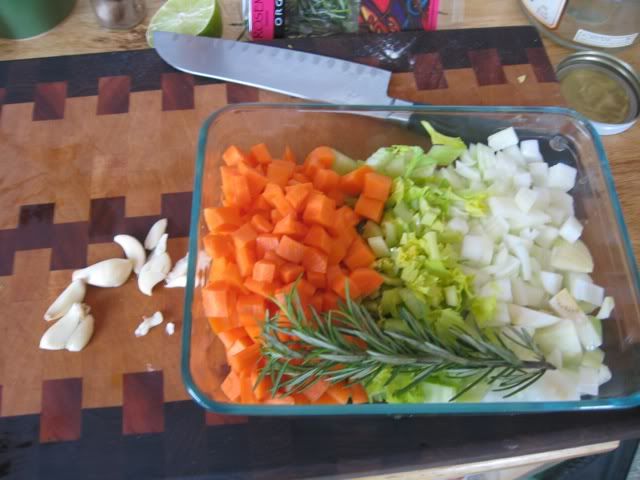 While the meat is browning, get your merde en place (as my husband calls it): one good-sized onion, diced; two ribs of celery, diced; three or four smallish carrots, diced. Also a couple good-sized cloves of garlic (or 6 of these stupidly small ones) and a sprig of rosemary, if you like.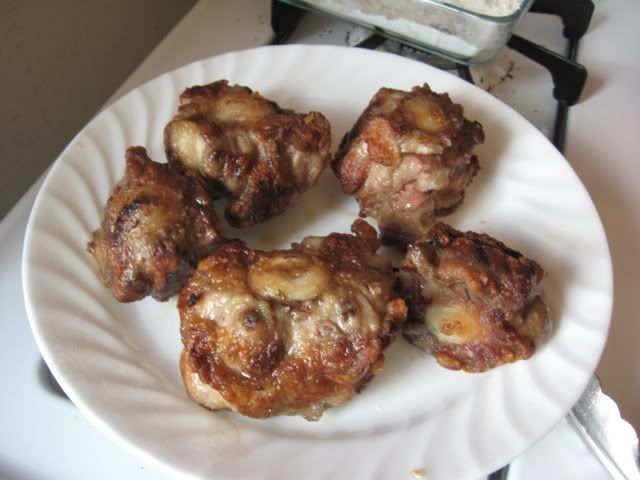 Once the meat is golden-brown and delicious, remove it from the pan and set aside. Preheat your oven to 300° and make sure there's a rack set in the middle.
Toss the veggies into the pan with a pinch of salt (reserve garlic and rosemary for later) and cook them, stirring occasionally, until they look like this.
Get yourself a couple tablespoons of tomato paste, a bay leaf, and about 1/2 tsp. dried thyme (or a few sprigs of fresh thyme).
Stir the tomato paste, garlic, and herbs into the pan and cook for about 30 seconds. DO NOT WALK AWAY FROM THE PAN HERE. It will burn very quickly if you don't pay attention. Add your reserved flour and cook for a minute or two. Reduce the heat a bit if things are browning too quickly.
Get yourself about 12oz or so of red wine. I'm using my favorite boxed wine here. You could also use a zinfandel, a malbec, merlot, or whatever you like – use something you like to drink that's not too tannic or sweet.
Stir in the wine and bring it to a boil, then let it reduce for a few minutes. Add about 12oz or so of water and bring to a boil. Tuck the pieces of oxtail into the pan and cover it, then place the pan in the center of the oven and let it sit for about 90 minutes.
Get yourself some lunch. I recommend cheese and crackers with homemade rhubarb chutney.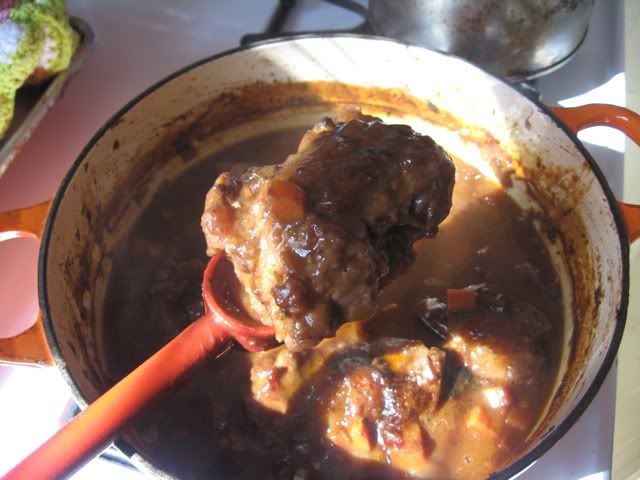 After about 90 minutes, this is what your food is going to look like. It is not done yet, but it smells amazing, doesn't it? Give it a stir and put it back into the oven, with the lid open about 1/4 to 1/2 inch and let it go for another 90 minutes or so.
About 40 minutes before you want to eat, draft a passing child to cut up some potatoes. Boil the potatoes in salted water until they're tender. Mash them with some butter and buttermilk, season with salt and pepper. Garlic would be a smart addition at some point, too.
After the meat has been in the oven for about 3 hours, it should be nice and tender. Remove the pieces of oxtail from the pan and set them aside, covering them with foil.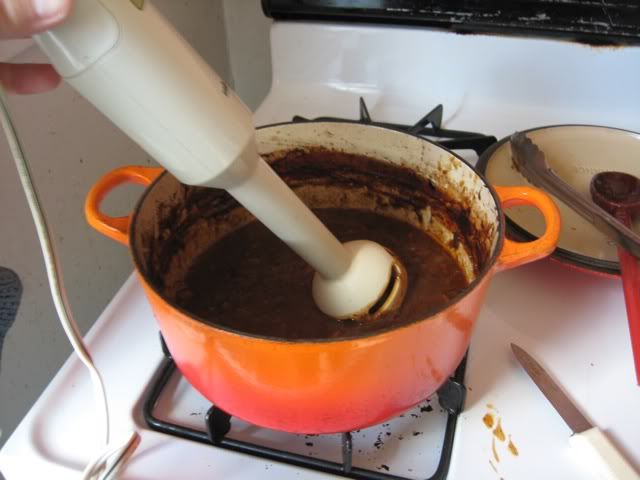 Remove the bay leaf and herb stems from the pot and puree it (or don't, if you like a chunky sauce). Season to taste and add a splash or two of sherry or red wine vinegar to brighten the flavor. Seriously – don't skip this step! It makes a huge difference.
Chase the kale-stealing kitten out of the sink, then drain the kale and sautee it with a little garlic.
I'm about 11 years out of restaurant work, so please excuse my uninspired and sloppy plating. We were just in a big hurry to eat!
This bearded man thoroughly enjoyed his dinner, as did I. The older kid ate the meat even though it tasted "weird". The younger one flat-out rejected everything. Nothing's a surprise here.
Braised Oxtail with Red Wine
Serves 3-4 people, depending on appetite and accompaniments.
2 lb oxtail, cut into 2″ chunks
1/3 cup all-purpose flour
1 TB lard or oil
1 medium onion, diced
2 ribs celery, diced
2 medium carrots, diced
2 large cloves garlic, chopped
1 sprig rosemary
1/2 tsp. dried thyme or 4 sprigs fresh
2 TB tomato paste
1.5 cups dry red wine (shiraz, malbec, zinfandel, etc.)
1.5 cups water
Salt and pepper
1 TB sherry vinegar or red wine vinegar
Preheat oven to 300°
Season flour with salt and pepper, then dredge oxtail pieces in it. Reserve flour to thicken stew. Heat lard or oil over medium-low flame in medium-sized Dutch oven, then brown meat on all sides. Remove meat from pan and add onion, carrot, and celery. Cook, stirring occasionally, until caramelized – about 10 minutes. Stir in tomato paste, garlic, rosemary, and thyme and cook for 30 seconds. Stir in reserved flour and cook for 2-3 minutes. Stir in wine and bring to a boil, then allow to reduce for a few minutes. Add water and bring to boil, then return the oxtail to the pan. Cover the pan and place it in the middle of the oven. Cook for 90 minutes, then stir. Return pan to oven, with the lid cracked open 1/2″, and cook another 90 minutes. Remove pan from the oven, then remove the meat and set aside, covering it with foil. Remove bay leaf and herb stems from the pot, then puree if desired. Season with salt and pepper, then stir in vinegar. Serve with your preferred sides.